From the latter half of 2019 through the turn of the new year we are seeing what might be characterized as a second wind in the market for select neighborhoods and particularly single family homes.  This has been due to a favorable economy and low interest rates.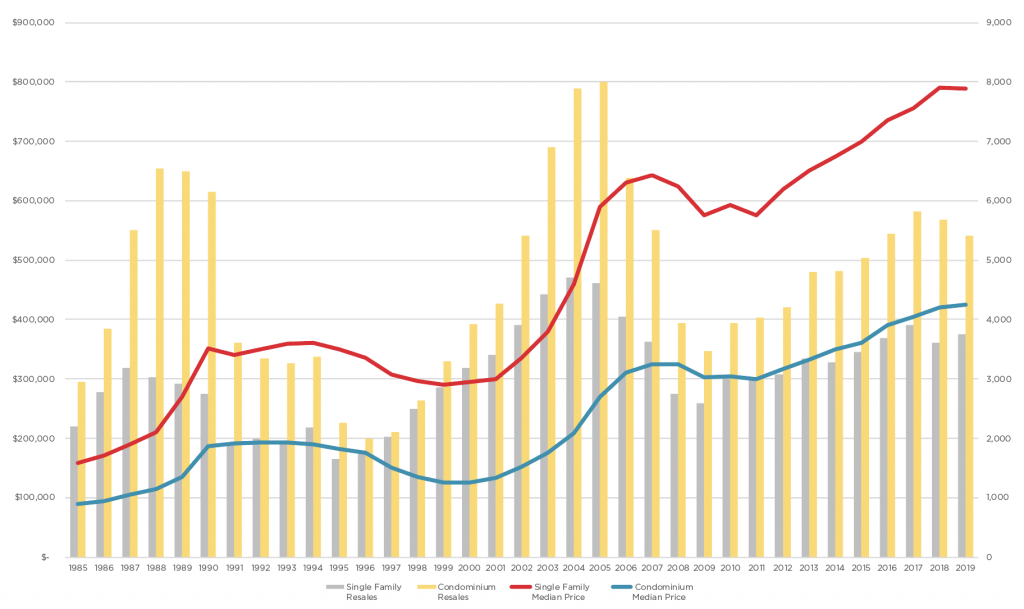 There have been year over year gains in both single family as well as condominium sales for many parts of the island, especially those areas in Honolulu and Central Oahu.  The gains have been in the more affordable price ranges of $1.2M and below for single family homes and below $800,000 for condominiums.
Statewide Trend
For the single family market we have seen a slight increase in sales year over year of close to 3% and a decrease in condominium sales of just over 4%. With fewer condominiums projects being completed last year versus years prior, there may have been a decline in the number of transactions as a result.
Changes On Oahu
Oahu continues to have a stable market both in single family as well as condominium sales with a tapering off of the single family median sales price.  This lateral move in price was anticipated given the slowdown in sales from 2018 and a general trend in the real estate cycle. There was a slight increase in the number of single family sales in 2019 which may be the result of a healthy economy and low interest rates.  Overall, the mood of the market is positive, but it is likely that the general trend of laterally moving prices will continue in the coming year.
Buyer Demographic
Though 2018 witnessed an increase in offshore buyers from areas such Japan, California, Canada, and Korea, 2019 was a year supported by local buyers in all major regions of the island.  This is also evidenced in the number of owner-occupant purchases which increased in all parts of Oahu. We're seeing a particularly dramatic shift in owner-occupant buyers for the North Shore of Oahu, which is likely the result of Bill 89, now regulating the implementation of short-term rentals.
Luxury Sales
When looking at the most active neighborhoods for single family luxury home sales in 2019, the usual suspects of Kahala, Diamond Head, Kailua Beachside and Lanikai topped the list.  Not surprisingly, Kakaako, Waikiki and Ala Moana are the most prominent neighborhoods for luxury condominium sales. Luxury sales include properties with a purchase price of $2M and above.  Unlike the rest of the market, luxury properties peaked in sales in 2017 and had a slow 2018. This is not unusual in our typical cycle, to see the luxury market lead the way of change.
Interest Rates
The relationship between interest rates and buyer demand grows closer as home buyers have become dependent upon lower interest rates to be able to purchase higher priced properties.  On Oahu we have seen that household wages have not increased at the same pace as housing prices. Therefore when we have a dip in mortgage rates, it allows homebuyers to purchase more. The rate was approximately 4.94% in November 2018 and is now at a low of around 3.49% as of February 2020.  This dramatic swing in rates has caused buyers to take action and make purchases while the rates are good.
2020 Forecast
Residential real estate in Hawai'i has seen leveling off which began in 2017 with the luxury $2M+ market and 2019 in with median prices. Sales began to increase in the latter half of 2019 due to a favorable economy and lower interest rates. The lower rates may continue to help bolster the market.  The more recent phenomenon of the Coronavirus is likely to cause some trepidation with both local as well as off-shore investors which will put a damper on overall purchases. We may end the year on an even note with last year assuming that the impact of the Coronavirus does not have a prolonged effect on the economy.  If you are a homebuyer or investor for the long-term this is an opportunity to make a purchase at historically low interest rates. As a homeseller, there appears to be a window of time in the first half of the year to sell your property with the increased demand, but you still have to keep your price attractive in order to find the right buyer.
Click here to download a PDF 2020 Oahu Residential Market Forecast