O'ahu's Housing Market Holds Strong Despite Limited Inventory
Overbidding and low inventory drive ultra-competitive market amid ongoing pandemic
According to resales figures released today by the Honolulu Board of REALTORS®, closed sales of single-family homes on O'ahu increased 5.6% and remained relatively steady from last month, while condo sales decreased 6.2% compared to this same period the previous year. Year-to-date, single-family home sales are almost back on track with 2019 activity and were down just 0.7%. Meanwhile, the condo market is struggling to recover to pre-pandemic levels and remained down by a double-digit percentage of 15.8%.
Using data collected from its computerized Multiple Listing Service (MLS) system, the Board reported the following statistics: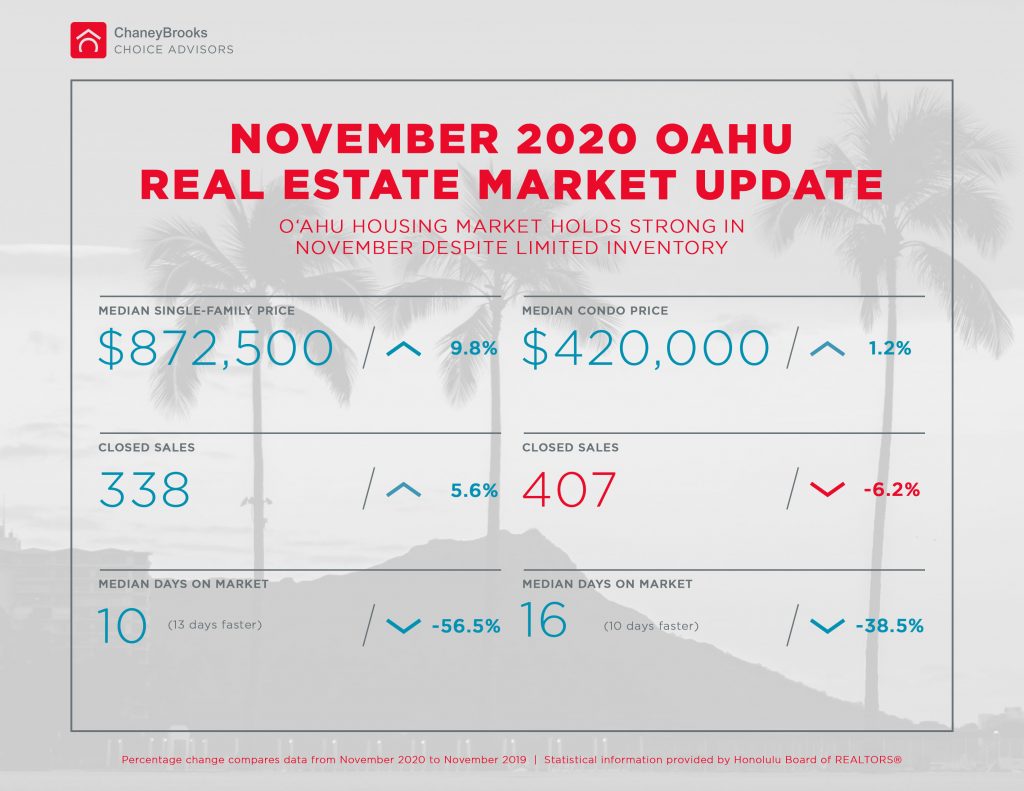 *Median price means half the prices were above and half below the given price.
**Condominiums also includes townhomes.
The number of single-family homes and condos sold above the original asking price skyrocketed 210.2% and 79.2%, respectively, compared to this time last year. Practically every region across O'ahu saw over-bidding activity for single-family homes, though it was most prevalent in the Ewa Plain, Kailua, and Kaneohe areas and the $700,000 to $999,999 price range. The Ewa Plain, Central, and Waipahu regions accounted for the most condos sold above the asking price and were within the $300,000 to $599,999 range.
"This seemingly new normal of buyers entering bids tens of thousands of dollars over asking price clearly reflects the urgent need for more housing," said Tricia Nekota, president, Honolulu Board of REALTORS®. "Despite limited inventory, the high demand for housing is keeping O'ahu's real estate market strong and steady throughout the public health crisis."
The median sales price of single-family homes rose 9.8% to $872,500 compared to November 2019. Properties priced at $700,000 and above marked a 25.7% increase in closed sales and represented more than 80% of all single-family homes sold last month. Regions across the island recorded significant jumps in sales, including Diamond Head with a 40% increase and Kailua with a 60%. In comparison, the usually active Metro region recorded a steep 28.6% drop in closed sales.
The median sales price of condos inched up 1.2% to $420,000. Condos listed just above the median sales price in the $500,000 to $599,999 range saw the largest gains, up 19% over last year. Mid-priced condos in the $400,000 to $499,999 range represented the bulk of condo sales, accounting for 22.1% of all sales in November, and were on pace with November 2019 sales.
New listings typically begin to wind down during the winter season, but new listings for singlefamily homes saw a year-over-year increase of 10.8%. Though new condo listings declined 4.1%, there was steady activity throughout the month. Sales in both markets continue to move quickly, with single-family homes and condos spending a median of 10 and 16 days on the market, respectively.
"We are experiencing a fast-paced market with properties flying off the market in a mere matter of days, especially single-family homes and townhouses," Nekota added. "REALTORS® help buyers and sellers feel confident navigating the real estate process and serve as your trusted partner."
While the active inventory of single-family homes dropped 34.0% compared to 2019, condo inventory is relatively mixed based on price points. There were modest increases on both ends of the price spectrum, including the $299,999 and below range and condos listed for $2 million and above, and 12.2% fewer listings for properties in the middle.
The information contained in this report is provided to the National Association of REALTORS® and the Hawaiʻi State Department of Economic Development, Business and Tourism for its official reports. This report reflects information about resales of existing properties only and does not include new home sales. All of the MLS information is compiled from sales reported during the cited months; this data is known only after closing of escrow.
The public is encouraged to visit www.hicentral.com to see what's happening in the housing market. Consumers have the ability to browse Oahu single-family home and condominium listings, available for sale and for rent, and to see a comprehensive guide of homes that will be open to visit this Sunday. All searches can be done by geographic location and/or price range, and hicentral.com provides useful information about buying and selling real estate in Hawaii.