O'ahu's Housing Market Rebounds with Year-End Spike in Activity
Record-low mortgage rates and low inventory drive heightened competition and modest increase in median sales prices for O'ahu's real estate market in 2020
According to figures released by the Honolulu Board of REALTORS®, the O'ahu real estate market ended 2020 with a spike in sales and new listings in December. Closed sales of single-family homes on O'ahu were up 35.9%, and condo sales rose by 20.1% compared to the same period in 2019. New listings increased by 15.3% and 3.6% year-overyear for single-family homes and condos, respectively. Median sales prices for December 2020 were up 6.1% at $870,000 for single-family homes and 6.9% to $455,000 for condos.
Using data collected from its computerized Multiple Listing Service (MLS) system, the Board reported the following statistics: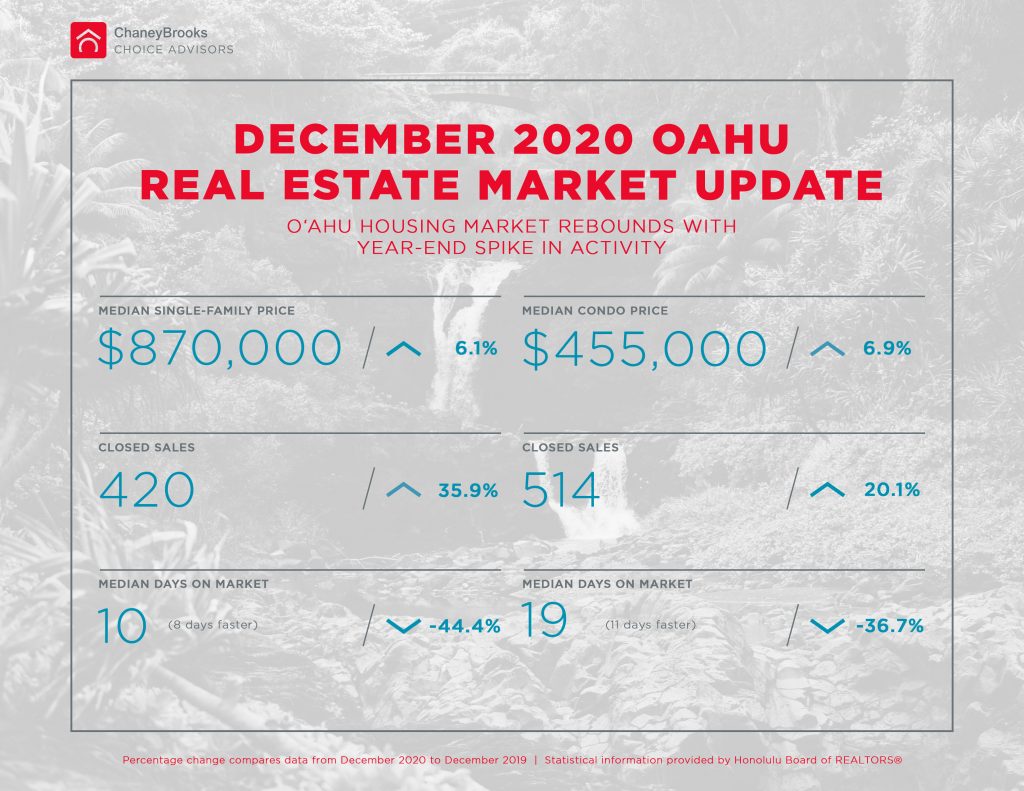 "Instead of the typical seasonal lull, the O'ahu real estate market saw steady – and even slight increases – in activity through the year's end despite the ongoing effects of the pandemic," said Shannon Heaven, president, Honolulu Board of REALTORS®. "Record-low mortgage rates paired with cautious optimism around reopening continued to drive activity, allowing the market to surpass sales and near new listing levels compared to the fourth quarter of 2019."
While 2020 began with both single-family home and condo sales outpacing the start of 2019, O'ahu's real estate market experienced a steep decline in activity when the COVID-19 pandemic hit in mid-March. In reaction to stay-at-home orders, record-high unemployment, health concerns, and general uncertainty brought about by the pandemic, second-quarter sales dropped 17.3% for single-family homes and 38.1% for condos, compared to the same period in 2019.
Deemed an essential business, the real estate industry pivoted to implement new policies and procedures that allowed for safe client interactions, open houses and transaction elements while adhering to public health and safety guidelines. Third-quarter sales saw a 4.0% bump in single-family home sales and a 13.4% decline in condo sales.
By the end of the year, mortgage rates were at a record low, with the average 30-year fixedrate dipping more than one percentage point over the 12-month period. Total annual singlefamily home sales were up 2.3% over 2019, but condo sales remained down, declining 13.0%. Increased purchasing power from lower mortgage rates and heightened competition spurred by low inventory resulted in annual median sales price increases of 5.2% to $830,000 for single-family homes and 2.4% to $435,000 for condos. Total new listings were down by 17.7% for single-family homes and 14.4% for condos compared to 2019.
According to the Honolulu Board of REALTORS®, annual resale figures for 2020 are:
Single-Family Home Resales
| | Number of Sales | Median* Sales Price |
| --- | --- | --- |
| 2020 | 3,838 2.3% | $830,000 5.2% |
| 2019 | 3,750 | $789,000 |
Condominium** Resales
| | Number of Sales | Median Sales Price |
| --- | --- | --- |
| 2020 | 4,706 -13% | $435,000 2.4% |
| 2019 | 5,408 | $425,000 |
*Median price means half the prices were above and half below the given price.
**Condominiums also includes townhomes.
"O'ahu's real estate market remained an economic driver amid a challenging year," added Heaven. "We saw a relatively stable market, but with heightened competition. Offers over asking price were commonplace and the pace of sales grew quicker as the year progressed."
The number of single-family homes sold over the original asking price was up 168.1% in the fourth quarter of 2020, representing 45.0% of the quarter's sales compared to just 19.0% in the year prior. Competitive bids were also seen more frequently in the condo market during the fourth quarter of 2020. The number of condos sold over the original asking price increased by 93.2%, representing 22.3% of the quarterly sales compared to 12.1% in 2019.
Neighborhood trends and sales by bedroom count may indicate how some buyers navigated their options during the pandemic. The greatest annual sales increases for single-family homes occurred in Kailua, North Shore and Ewa Plain regions. The Ewa Plain and Kailua also saw the greatest increase in sales volume for condos. Given the shortage in single-family home inventory, preferences for more space and added purchasing power from low mortgage rates, condos with four or more bedrooms experienced a 31.7% jump in closed sales at 79 properties compared to 60 in 2019.
The information contained in this report is provided to the National Association of REALTORS® and the Hawaiʻi State Department of Economic Development, Business and Tourism for its official reports. This report reflects information about resales of existing properties only and does not include new home sales. All of the MLS information is compiled from sales reported during the cited months; this data is known only after closing of escrow.
The public is encouraged to visit www.hicentral.com to see what's happening in the housing market. Consumers have the ability to browse Oahu single-family home and condominium listings, available for sale and for rent, and to see a comprehensive guide of homes that will be open to visit this Sunday. All searches can be done by geographic location and/or price range, and hicentral.com provides useful information about buying and selling real estate in Hawaii.