COVID-19 Pandemic's Impact on O'ahu's Housing Market is Widespread
Closed sales, new listings mark double-digit decreases for both single-family homes and condos in April.
According to resales figures released today by the Honolulu Board of REALTORS®, closed sales for single-family homes and condos were down more than 20% and new listings decreased by 42% compared to this time last year. However, the median sales price for single-family homes and condos rose slightly to $809,000 and $450,000 respectively.
Using data collected from its computerized Multiple Listing Service (MLS) system, the Board reported the following statistics: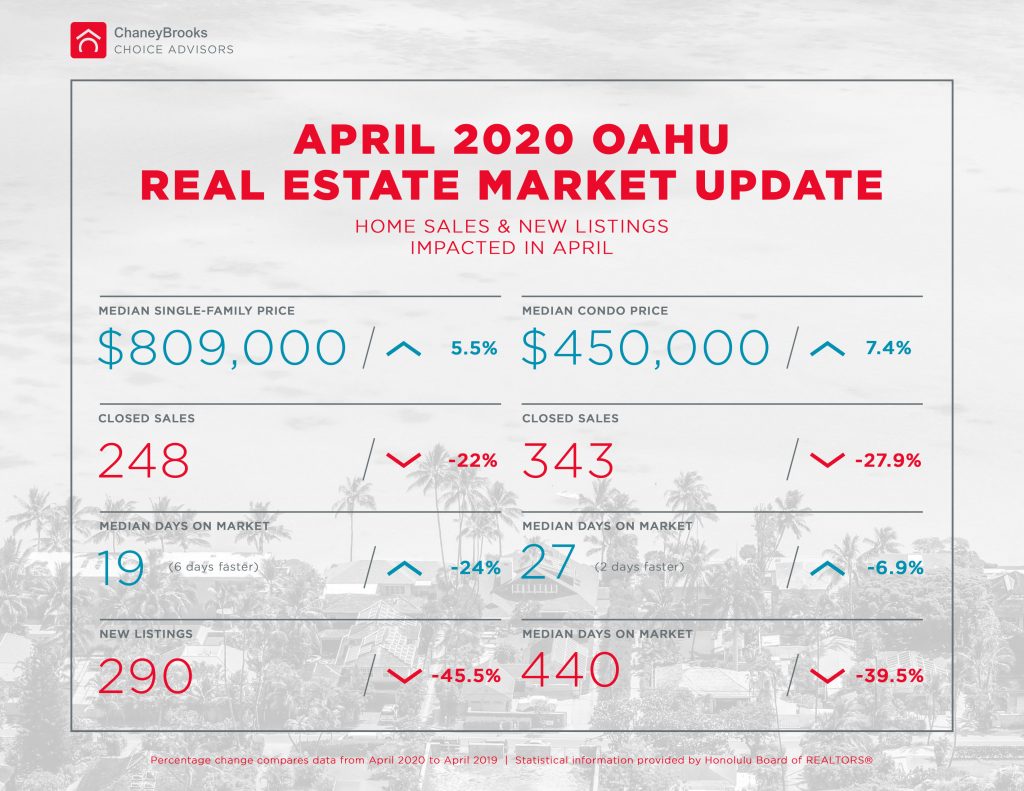 *Median price means half the prices were above and half below the given price.
**Condominiums also includes townhomes.
"As anticipated, our housing market is confronting challenges amid the Coronavirus pandemic, including a steep decline in sales and listings," said Tricia Nekota, president, Honolulu Board of REALTORS®. "Despite our low inventory, REALTORS® continue to help serious buyers secure their perfect home."
The most sales activity for single family homes occurred in the $500,000 to $999,999 price range. However, closed sales in this range were down 28% compared to the same time last year. Sales $1 million or more fared almost even, with a 3% decline compared to 2019. Condominium sales across all price ranges experienced a significant drop in sales activity. The most significant drop in sales occurred in the $200,000 to $299,999 range at 56%. Mid-range sales between $300,000 to $599,999 were down by 24%, while sales in the $1 million and up category declined by 40%.
At the end of April, the City and County of Honolulu lifted restrictions on real estate operations allowing for some in-person showings with strict guidelines in place. Property showings must be by appointment only, buyers must be pre-qualified and no more than three individuals (including the agent) are allowed at one appointment. The Honolulu Board of REALTORS® is still encouraging REALTORS® to conduct all open houses virtually, which are shared on hicentral.com.
There continues to be a slowdown in the number of new listings coming onto the market due to the stay-at-home order that went into effect on March 23. New single-family home and condo listings in the $1 million and up range saw the largest declines at 51.4% and 58.1% respectively when compared to this time last year. Meanwhile, as mortgage rates continue to reach all-time lows, lenders are tightening credit standards thereby limiting the pool of buyers that can leverage this opportunity in their favor.
Only 26% of the current supply of active single-family homes were listed after the stay-at-home order. Compared to the same time last year, listings put on the market made up 41% of the active single-family home inventory. Within the current supply of active condo listings, 24% of properties were listed after the stay-at-home order, compared to 37% during the same time period in 2019. "Sellers and buyers are exceedingly cautious as they juggle their perceptions and the reality of economic security amid these uncertain times. Once consumers begin to feel some relief from the impacts of the pandemic, it's likely we will see listing and buying activities slowly increase," Nekota added.
The information contained in this report is provided to the National Association of REALTORS® and the Hawaiʻi State Department of Economic Development, Business and Tourism for its official reports. This report reflects information about resales of existing properties only and does not include new home sales. All of the MLS information is compiled from sales reported during the cited months; this data is known only after closing of escrow.
The public is encouraged to visit www.hicentral.com to see what's happening in the housing market. Consumers have the ability to browse Oahu single-family home and condominium listings, available for sale and for rent, and to see a comprehensive guide of homes that will be open to visit this Sunday. All searches can be done by geographic location and/or price range, and hicentral.com provides useful information about buying and selling real estate in Hawaii.