In this article we are reviewing the best homes and condominiums for active seniors in Ko Olina.  In Hawaiian Ko Olina translates to the Place of Joy.  Ko Olina Resort is a master-planned, oceanfront community located on 642 acres along the leeward coast of Oahu within the city boundaries of Kapolei.  Currently, it is the only community on Oahu where residents are allowed to use their personally owned golf carts to get around the neighborhood using designated golf cart lanes.
Today, there are six residential communities within this luxury resort that includes the Ko Olina Golf Club (18 holes designed by Ted Robinson), Marina (full service with 330 slips), Ko Olina Station retail center and four white-sand beach lagoons.
Some of the key design elements and safety features found throughout the resort area and offered in the residential communities that make Ko Olina desirable and enjoyable for active seniors are as follows:
Resort Area
Ko Olina Resort Aloha Team for added welcome & security
complimentary resort shuttle (Holo Ka'a) for ease of mobility
private golf cart privileges for added mobility and convenience
separate golf cart/bike lane on the roads for added safety
marked and lighted pedestrian crosswalks for added safety
shoreline walking/jogging paths and tree-shaded sidewalks for active lifestyle
Ko Olina Beach & Sports Club for indoor gym, tennis courts and group classes
Laulima Farm community garden for outdoor hobby and health
Residential Communities
single level units (no staircase) for easy mobility
open floor plans for easy access
air conditioning for cool comfort
security gated entrances for a sense of security
community pool/spa for active recreation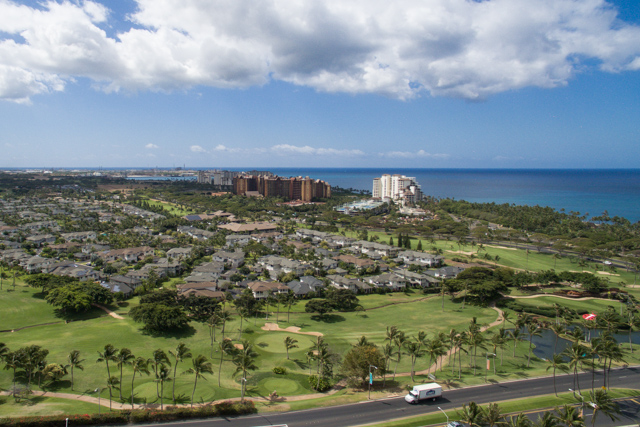 While the Ko Olina residential communities offer a wonderful variety of homes ranging from two-bedroom condos/villas to four-bedroom single-family residences, the following will highlight the different design features and model layouts that can promote lifelong housing for active seniors.
Looking for a high-rise luxury condominium with a breath taking view?  The Beach Villas At Ko Olina (built in 2007) is the only oceanfront residential community within the resort that offers two or three bedroom condo/flats located right on the Honu Lagoon #2.  These high-end units are designed with a gourmet kitchen by Roy Yamaguchi, streamline lanai pocket doors and have access to a private owners lounge and beach bar.   In addition, the Beach Villas are the only fee simple units located on the makai-side of the main resort road and are zoned as "Hotel and Resort" and thus, allow short-term rentals (less than 30 days).
On the other end of the price spectrum, The Fairways At Ko Olina (built in 1995) offer the only 2-2-2 ground floor unit – that's two bedrooms and two baths with an attached two-car garage. This particular multi-unit condo called Model C – GREENS is very desirable, especially the limited few that also have golf course frontage along holes #2 and #3 of the Ko Olina Golf Club.
Ahhh!  The Coconut Plantation Ko Olina (built in 2002) with it's award-winning design reminiscent of Hawaii's old sugarcane plantation villages, offers the only ground floor cottage/duplex with two master bedrooms and two & half bath with an attached two-car garage called Cottage One – ORICHID.    In addition, this gated residential community offers the only ground floor, two bedroom and two-bath villa with a single car garage plus an additional golf cart garage/enclosed storage.  This very popular multi-unit condo is called Villa One – GINGER.
If you need an additional spare room for guests or an office…then check out Kai Lani (built in 2003), which offers the only three bedroom, ground floor multi-unit villa [referred to as Unit #B and #D] in the Ko Olina area.  While some of the Kai Lani villas have ocean views in the distance, this residential community (like the Beach Villas), is located away from the golf course.
What about having your own yard?  Ko Olina Kai Golf Estates & Villas (built in 2004), a gated residential community, offers the only single level, single-family residence (SFR)/estate home with golf course frontage along holes #10, #14, #15 and #18 of the Ko Olina Golf Club. Referred to as Golf Estates – Type 1, this home has three bedrooms and two & half baths and an attached two-car garage.  Golf estate homeowners are responsible for their own private yards and, if desired, are allowed to install their own pool, spa, water features, landscaping, etc.
In addition, Ko Olina Kai Golf Estates & Villas offer the only ground floor, two bedroom and two bath multi-unit villas referred to as Villas A & F that are located within the same residential community along side of SFRs/golf estate homes which help to maintain pride of ownership, higher owner occupancy and property market values.
While this article highlights the distinguishing design features and model layouts for the single level and ground floor homes above, Ko Olina has many two story homes and units, including those offered in the residential community of Ko Olina Hillside Villas (built in 2006), which is comprised solely of two-story townhomes with an enclosed garage.
In addition, it is exciting to note that Ko Olina Resort is slated to continue to grow with new luxury condominiums and high-end hotels planned for development in the near future.
Lucky live Hawaii…but betta yet…LUCKY LIVE KO OLINA!
Also, click on these links for related articles and for more information about the Ko Olina Resort community and the city of Kapolei.