Honolulu is the one of the most expensive cities to live in when it comes to housing prices. There is a limited supply of affordable housing because the price of land and construction is cost prohibitive for many smaller private sector developers. This has resulted in larger developers building higher-priced residences in areas such as Ala Moana and Kaka'ako, which provides the necessary profit to facilitate the commitment of investment and resources.
There have been ways in which incentives have attracted developers to build more affordable residences via public-private partnerships. There are tax credits provided via state agencies such as the Hawaii Housing Finance and Development Corporation (HHFDC) or with the guidance of Hawaii Community Development Authority (HCDA) to create affordable homes for rent and purchase. Another is to partner with the State in developing rental housing on government owned land. While these have been successful to bring about some affordable housing there is a greater opportunity when smaller private sector developers and land owners can get involved.
Bill 7, spearheaded by Marshall Hung, Mel Kaneshige & Newton J.K.Chung is a means of facilitating private sector participation to create more affordable housing. It was sponsored by Kymberly Marcos Pine and passed the City Council unanimously on May 8, 2019 and signed by Mayor Caldwell on May 21, 2019. The concept is to increase the incentives and relax development standards on parcels which can be developed for affordable rentals. This follows alongside requirements which assure the City that the actual use is meeting the needs of those who qualify for affordable rental units. The hope is that approximately 9,800 to 21,000 additional affordable units can be built under Bill 7. The Bill will sunset on May 21, 2024 unless otherwise extended.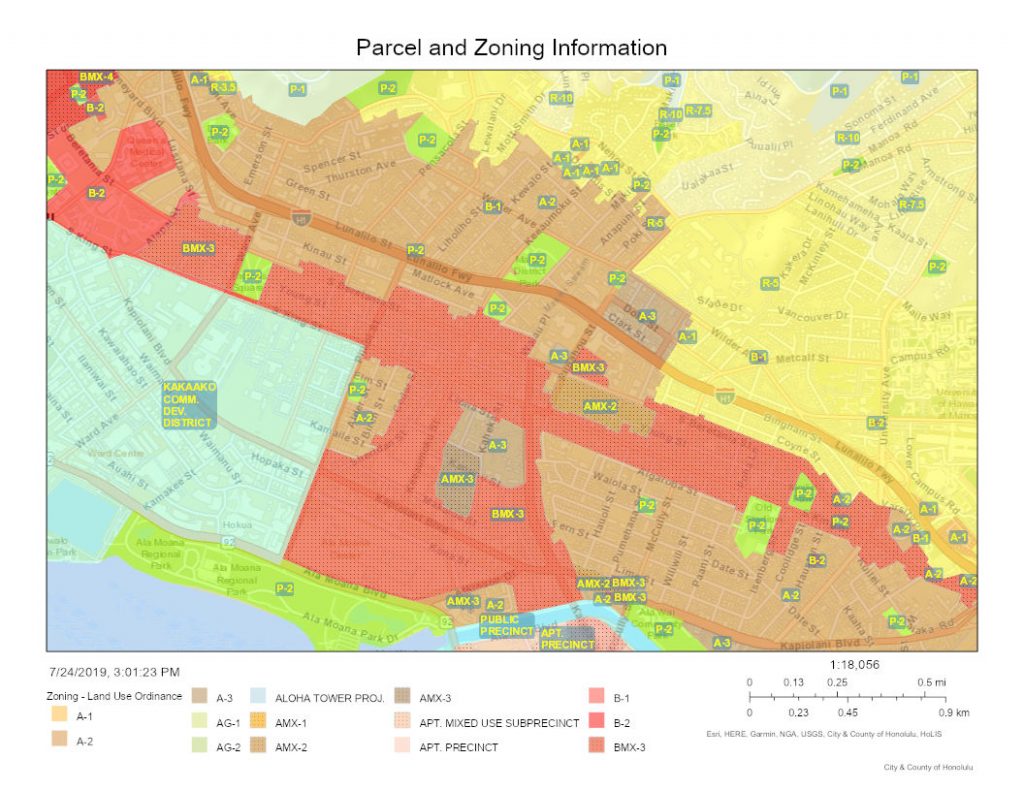 *The following table is a quick overview of the details:
Bill 7 Overview
Details
Zoning
Parcels in Apartment, AMX (Apartment Mixed-Use), BMX (Business Mixed-Use)
Eligibility
25 units on 5,000 sf lot
50 units on 10,000 sf lot
75 units on 15,000 sf lot
100 units on 20,000 sf lot
Maximum Sizes
Studio with 1 bath – 500 sf
1 bedroom, 1 bath – 650 sf
1 bedroom, 1.5 baths – 700 sf
1 bedroom, 2 baths – 750 sf
2 bedrooms, 1 bath – 800 sf
2 bedrooms, 1.5 baths – 900 sf
2 bedrooms, 2 baths – 1,000 sf
3 bedrooms, 1.5 baths – 1,100 sf
3 bedrooms, 2 baths – 1,200 sf
3 bedrooms, 2.5 baths – 1,250 sf
4 bedrooms, 2 baths – 1,300 sf
4 bedrooms, 2.5 baths – 1,350 sf
Building
"Check-the-Box" building permit versus discretionary.
Elevators are not required except for first floor via Fair Housing Act.
Modified sprinkler system using domestic line as designed by licensed mechanical engineer.
Single 48" wide stairway for buildings 35 units or less or two 36" stairways.
Incentives
Wastewater System Facility charges waived.
Plan Review and Building Permit Fees waived.*For informational purposes only.  Subject to review by legal experts and licensed professionals.
Park Dedication requirements waived.
Real property tax exemptions:
• 10 years for units rented to 80% AMI tenants at 80% AMI rents.
• During construction and marketing for units intended for 100% AMI tenants and 100% AMI rents.
Requirements
80% of Tenants are 100% AMI or less
20% can be used by owner and family
Rents are 100% of AMI
Private sector financing
*For informational purposes only.  Subject to review by legal experts and licensed professionals.
In 2019 the HUD income limits in Honolulu for those at 100% AMI (Area Median Income) are as follows:
$84,000 for 1 person
$96,400 for 2 people
$108,500 for 3 people
$120,500 for 4 people
In 2019 the HUD maximum rents in Honolulu for those at 100% AMI are as follows:
$2,260 for a studio
$2,411 for a 1 bedroom
$2,848 for a 2 bedroom
$3,243 for a 3 bedroom
$3,646 for a 4 bedroom
**Does not include utilities