O'ahu Housing Market Holding Strong
Record low mortgage rates continue to drive healthy market activity.
According to resales figures released today by the Honolulu Board of REALTORS®, single-family home sales performed strongly again in February with a healthy year-over-year increase of 18.8%, while condo sales saw a slight dip of 1.6%. Using data collected from its computerized Multiple Listing Service (MLS) system, the Board reported the following statistics: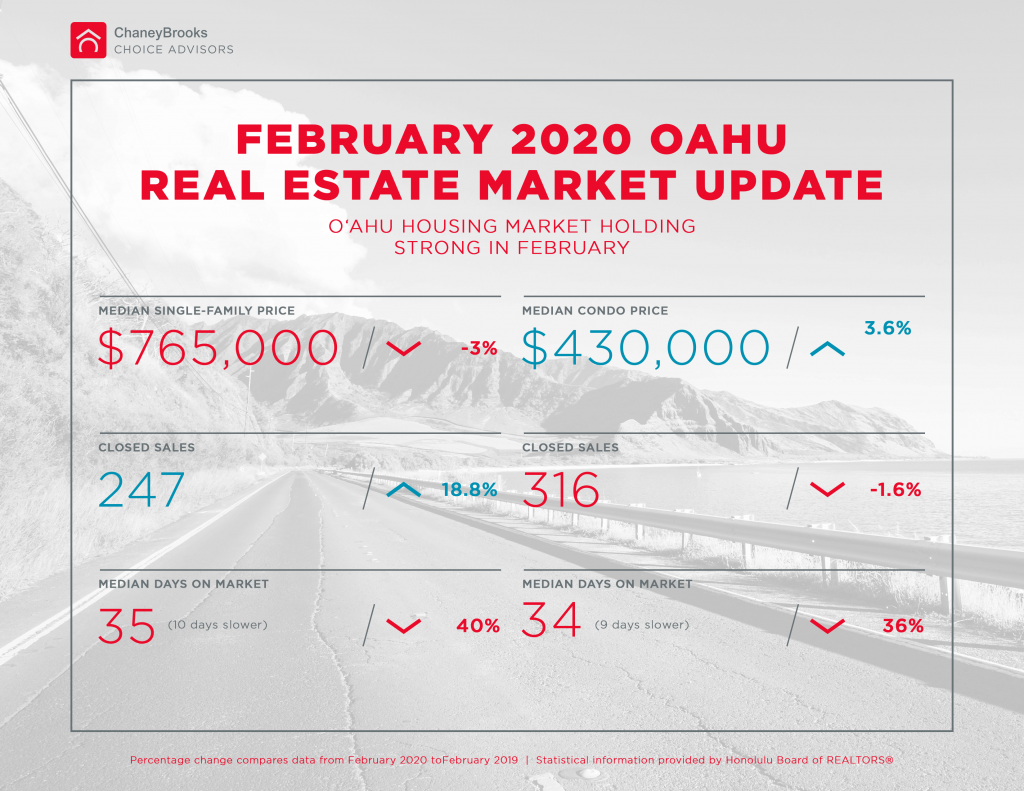 *Median price means half the prices were above and half below the given price.
**Condominiums also includes townhomes.
"While COVID-19 presents new concerns and uncertainty in the general economy, the impact on our housing market remains to be seen," said Tricia Nekota, president, Honolulu Board of REALTORS®. "However, we anticipate that homebuyers will continue to drive steady activity as they take advantage of historically low interest rates."
Mortgage interest rates continue to average near historic lows, with this week's average 30- year fixed-rate mortgage falling to a record low of 3.29%.
Single-family homes saw a median sales price of $765,000 or a 3% decline, which is largely due to a boost in sales in the mid-range prices. Homes in the $600,000 to $899,000 range were scooped up by buyers across the island, accounting for 55% of the sales last month. The majority of the total 136 sales occurred in the Ewa Plain region, followed by the Waipahu and Central O'ahu areas.
Meanwhile, condo sales marked a median sales price of $430,000 or a 3.6% increase from this time last year. Though median condo sales prices continue to climb, more than 75% of the condos sold last month closed below the original asking price. This marks a slight increase when compared to February 2019, when 68.2% of the sales had closed below the asking price.
"There are many considerations that consumers will encounter during a property sale or purchase. Working with a REALTOR® brings the added industry knowledge that goes far beyond the statistics," added Nekota.
Click here to view a PDF of the full report.
The information contained in this report is provided to the National Association of REALTORS® and the Hawaiʻi State Department of Economic Development, Business and Tourism for its official reports. This report reflects information about resales of existing properties only and does not include new home sales. All of the MLS information is compiled from sales reported during the cited months; this data is known only after closing of escrow.
The public is encouraged to visit www.hicentral.com to see what's happening in the housing market. Consumers have the ability to browse Oahu single-family home and condominium listings, available for sale and for rent, and to see a comprehensive guide of homes that will be open to visit this Sunday. All searches can be done by geographic location and/or price range, and hicentral.com provides useful information about buying and selling real estate in Hawaii.