O'ahu's housing market continues to slowly recover
Month-over-month sales and new listings up, market activity still trails 2019 levels
According to resales figures released today by the Honolulu Board of REALTORS®, the O'ahu real estate market is experiencing incremental month-over-month gains in closed sales and new property listings, though year-over-year activity remains down. Pent up demand, low mortgage rates and low inventory continue to drive market activity.
Using data collected from its computerized Multiple Listing Service (MLS) system, the Board reported the following statistics: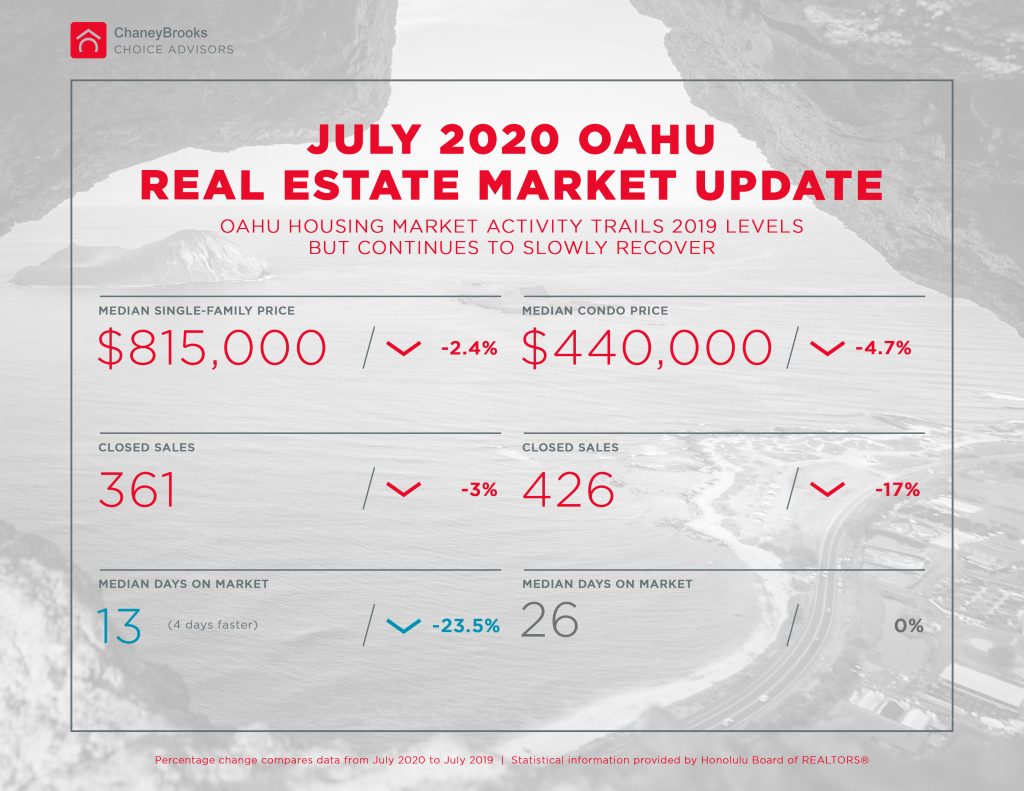 *Median price means half the prices were above and half below the given price.
**Condominiums also includes townhomes.
"We are seeing signs of increased activity driven by eager buyers looking to take advantage of record-low interest rates coupled with sellers who are slowly wading back in to put their properties on the market," said Tricia Nekota, president, Honolulu Board of REALTORS®. "This real estate activity indicates confidence in our local housing market and contributes to the recovery of Hawai'i's economy."
Despite a 3.0% slip in sales for single-family homes compared to this time last year, sales of single-family homes surpassed the average monthly sales for 2019 by 15.3% and marked a 19.5% increase compared to June. Sales of homes in the $700,000 to $899,999 range were up 19.4%, but homes in the $600,000 to $699,999 range saw a 26.5% decrease in sales. The demand for single-family homes remains high with properties spending a near record lowmedian of 13 days on the market.
Condo sales dropped 17.0% compared to last July, while month-over-month sales activity continues on an upward trajectory with a 36.5% increase in sales compared to June 2020. Overall, there was a decline in sales volumes for condos at most price ranges, except for condos in the $400,000 to $499,999 price range, which marked a 20.7% uptick compared to this time last year.
New listings for single-family homes and condos were down 18.8% and 15.6% respectively; however, compared to last month, new listings for single-family homes and condos are up 7.7% and 9.9% respectively.
"With low inventory and continued declines in new listings, REALTORS® serve as a trusted partner to help buyers navigate this highly competitive market, where many properties are experiencing multiple offers that are well above the asking price," added Nekota. "REALTORS® also work closely with sellers to manage the high demand and multiple offers."
While the year-over-year median sales price of single-family homes and condos for July dropped slightly, the year-to-date median sales price inched up 0.6% to $790,000 for singlefamily homes and 1.2% to $430,000 for condos.
The information contained in this report is provided to the National Association of REALTORS® and the Hawaiʻi State Department of Economic Development, Business and Tourism for its official reports. This report reflects information about resales of existing properties only and does not include new home sales. All of the MLS information is compiled from sales reported during the cited months; this data is known only after closing of escrow.
The public is encouraged to visit www.hicentral.com to see what's happening in the housing market. Consumers have the ability to browse Oahu single-family home and condominium listings, available for sale and for rent, and to see a comprehensive guide of homes that will be open to visit this Sunday. All searches can be done by geographic location and/or price range, and hicentral.com provides useful information about buying and selling real estate in Hawaii.