Single-family home sales up, condo sales and new listings down in March
REALTORS® take businesses virtual, continue to provide essential housing services and resources to clients.
According to resales figures released today by the Honolulu Board of REALTORS®, single-family home sales were up again in March with a year-over-year increase of 9.8%, while condo sales declined 12.2% compared to last year. The median sales price for both single-family homes and condos rose modestly to $810,000 and $435,000, respectively. Using data collected from its computerized Multiple Listing Service (MLS) system, the Board reported the following statistics: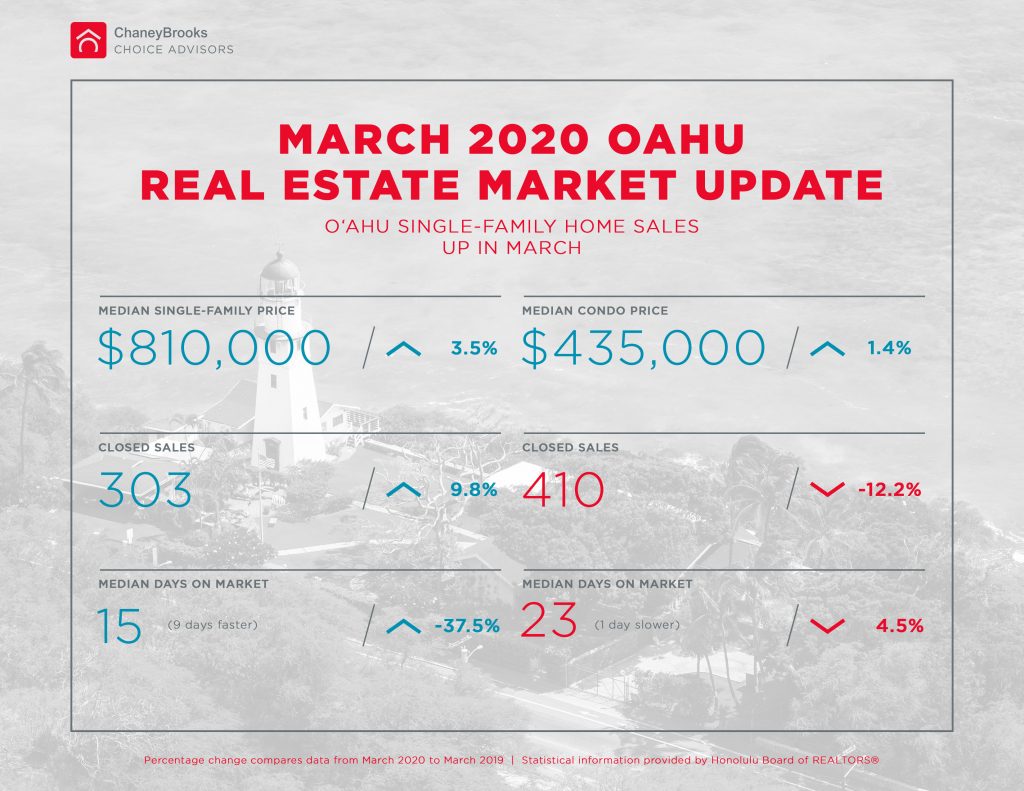 *Median price means half the prices were above and half below the given price.
**Condominiums also includes townhomes.
"While the numbers illustrate the market is holding strong, we're only beginning to see the changes in activity," said Tricia Nekota, president, Honolulu Board of REALTORS®. "For example, the majority of closed sales were already in escrow at least 30 days prior to the stayat-home order, and we saw a double-digit decline in new listings last month. These stats are likely an early reaction to economic uncertainty and indicative of a shift in market activity due to the impacts of COVID-19."
Generally, real estate activity has kept pace with 2019 figures. For the first quarter of 2020, single-family home sales were up 11.6% compared to 2019. Condo year-to-date sales trail last year by just under 1%. However, the stay-at-home order that went into effect on March 23, 2020 has contributed to a slowdown in the number of listings coming on market. Single-family home listings declined by 16.7% and condo listings were down 14.3% in March. A significant number of active listings have also been moved into a temporarily off-market status, which has resulted in lower inventory levels.
The Honolulu Board of REALTORS® temporarily canceled all open houses effective March 24, but its members continue to conduct essential business. Showings are held virtually and preventative measures, including best practices in social distancing and hygiene, are encouraged for any activity that must occur in-person or on-properties.
"We're all doing our part to prevent the spread of COVID-19 and keep our community safe," added Nekota. "The real estate industry – from REALTORS® to title companies, financial institutions and more – is presenting a united front to support homeowners and renters. We know that it will take everyone's cooperation to get through this uncertain time."
As many in the community face unemployment and concerns over paying their mortgages and rent, resources have been made available to provide relief. Homeowners and renters are encouraged to contact their mortgage lender or landlord to discuss relief options, such as deferral and forbearance. Information is available at https://hicentral.com/.
The information contained in this report is provided to the National Association of REALTORS® and the Hawaiʻi State Department of Economic Development, Business and Tourism for its official reports. This report reflects information about resales of existing properties only and does not include new home sales. All of the MLS information is compiled from sales reported during the cited months; this data is known only after closing of escrow.
The public is encouraged to visit www.hicentral.com to see what's happening in the housing market. Consumers have the ability to browse Oahu single-family home and condominium listings, available for sale and for rent, and to see a comprehensive guide of homes that will be open to visit this Sunday. All searches can be done by geographic location and/or price range, and hicentral.com provides useful information about buying and selling real estate in Hawaii.