O'ahu Real Estate Market Shows Signs of Improvement
Sales for single-family homes and condos are still down, but new listings and new escrow volume see month-over-month growth.
According to resales figures released today by the Honolulu Board of REALTORS®, the O'ahu real estate market continued to see muted activity as a result of the COVID-19 pandemic that began in late March. Single-family homes sales were down 22.5%, and condominium sales saw a steep 51.2% decline compared to May 2019. Median sales prices were mixed with the single-family home median up 3.5% to $797,000, while the condo median sales price declined by 4.4% to $399,000.
Using data collected from its computerized Multiple Listing Service (MLS) system, the Board reported the following statistics: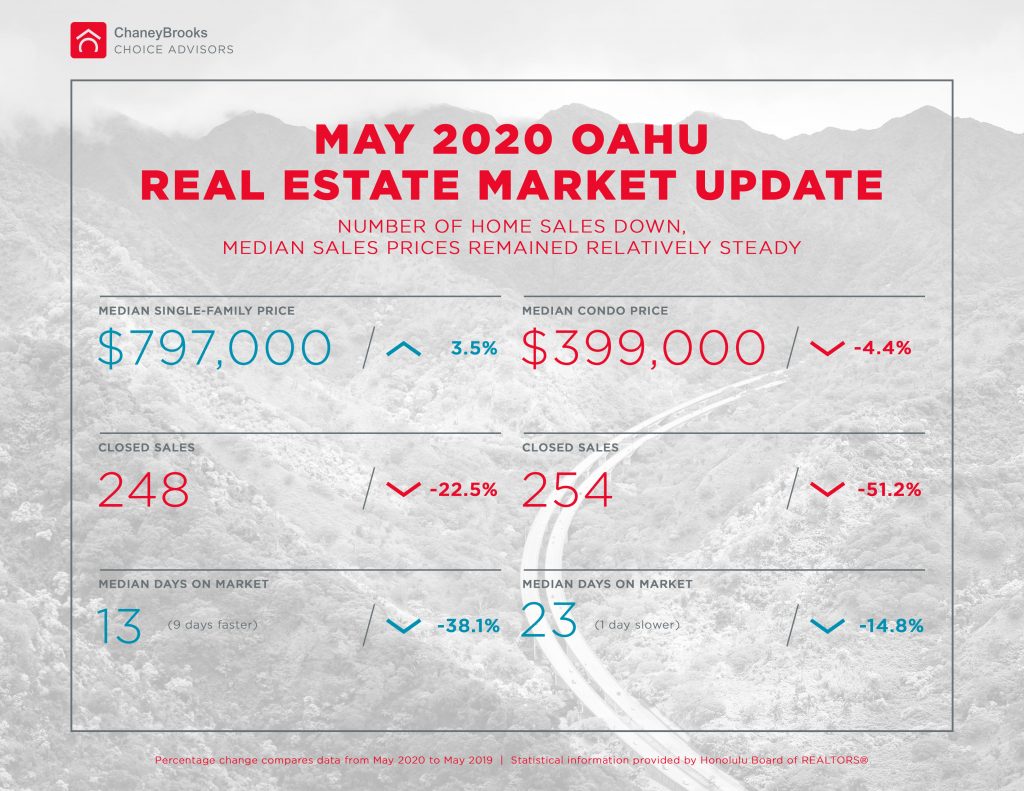 *Median price means half the prices were above and half below the given price.
**Condominiums also includes townhomes.
"The year-over-year statistics are what we expected – the number of sales were down and median prices remained relatively steady due in large part to lower than usual inventory and continued high demand," said Tricia Nekota, president, Honolulu Board of REALTORS®. "As the state continues to reopen, we are already seeing a steady increase in activity that, in turn, helps to drive our local economy."
Single-family home sales in the mid-range levels between $600,000 to $899,999 saw the largest declines at 26.3% compared to last year, while sales in the $1.4 million and up range remained relatively even. The condo market saw sales declines of more than 30% at every price range but was most impacted at the $1 million and up range, which dropped 85% with just six condo sales compared to 40 sales in May 2019.
Despite the year-over-year decline in sales activity, the market showed signs of improvement. The demand for single-family homes is still strong, as indicated by a near record-low median of 13 days on market. Thirty percent of the properties that were taken off market in March or April were already put back on the market by the end of May. Total new listings increased by 17% over April, while the volume of listings going into escrow saw a 32% increase from April to May. The 30-year fixed mortgage rate also hit another record low at the end of May, averaging 3.15%, and according to the Mortgage Bankers Association, mortgage applications nationally continued an upward streak with applications up 54% from early April to late May and 18% higher than a year ago.
"While we're allowed to restart open houses this weekend, our top priority remains the health and safety of sellers, buyers and agents. Strict guidelines for social distancing, use of face masks, and good hygiene practices are some of the many practices that we will continue to implement," added Nekota.
As of Friday, June 5, the City and County of Honolulu further lifted restrictions on real estate operations allowing for open houses with certain restrictions, including limiting the number of attendees to 10. Both in-person and virtual open houses are available on hicentral.com.
The information contained in this report is provided to the National Association of REALTORS® and the Hawaiʻi State Department of Economic Development, Business and Tourism for its official reports. This report reflects information about resales of existing properties only and does not include new home sales. All of the MLS information is compiled from sales reported during the cited months; this data is known only after closing of escrow.
The public is encouraged to visit www.hicentral.com to see what's happening in the housing market. Consumers have the ability to browse Oahu single-family home and condominium listings, available for sale and for rent, and to see a comprehensive guide of homes that will be open to visit this Sunday. All searches can be done by geographic location and/or price range, and hicentral.com provides useful information about buying and selling real estate in Hawaii.