The overall market continues to improve as we move into the Summer of 2017. We are seeing a steadily growing number of sales and record-high prices along with a very low supply of inventory. In the first quarter of 2017, there was an increase of 12.5% for condominium sales and a higher median price of $398,000. What might be driving the condo market is a higher price point for homes, causing buyers to consider a smaller condominium living space at a lower overall cost and convenience to Honolulu's urban core and retail and business centers.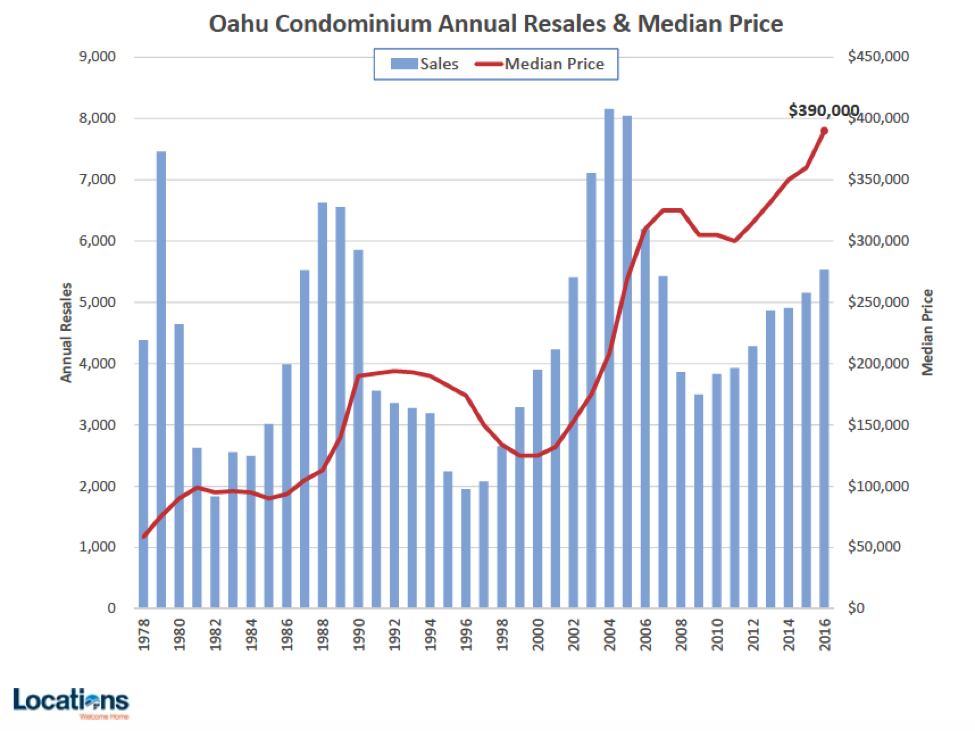 Neighborhood Specific Perspective
When we take a look at the specific neighborhoods across Oahu most have experienced an increase in sales activity within the last 12 months. Prices overall have increased by 8.2%. Salt Lake is the only neighborhood which did not see increased sales as the others and this might be due to the development of affordable units in Kakaako which have provided an alternative to the older buildings in the Salt Lake area. Each neighborhood provides a certain value that attracts the buyers who decide to purchase and live there. You will have larger and less expensive units as you move out from Honolulu to West, Central and Windward Oahu. There will also be more townhomes in those areas versus high-rise condominium apartment buildings which you'll mostly find in Honolulu.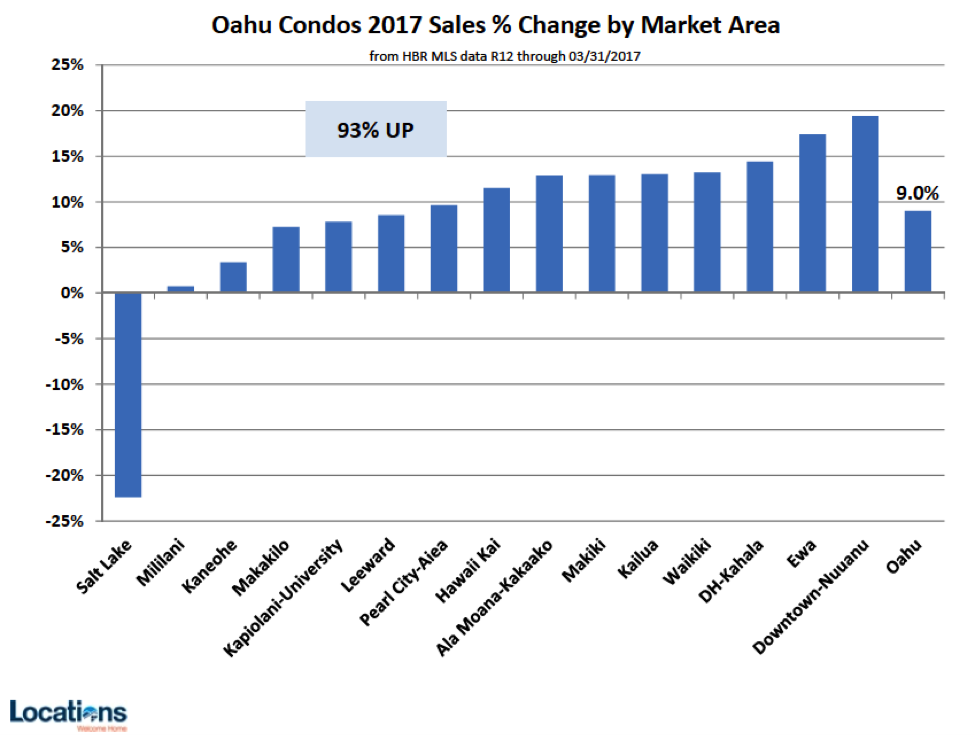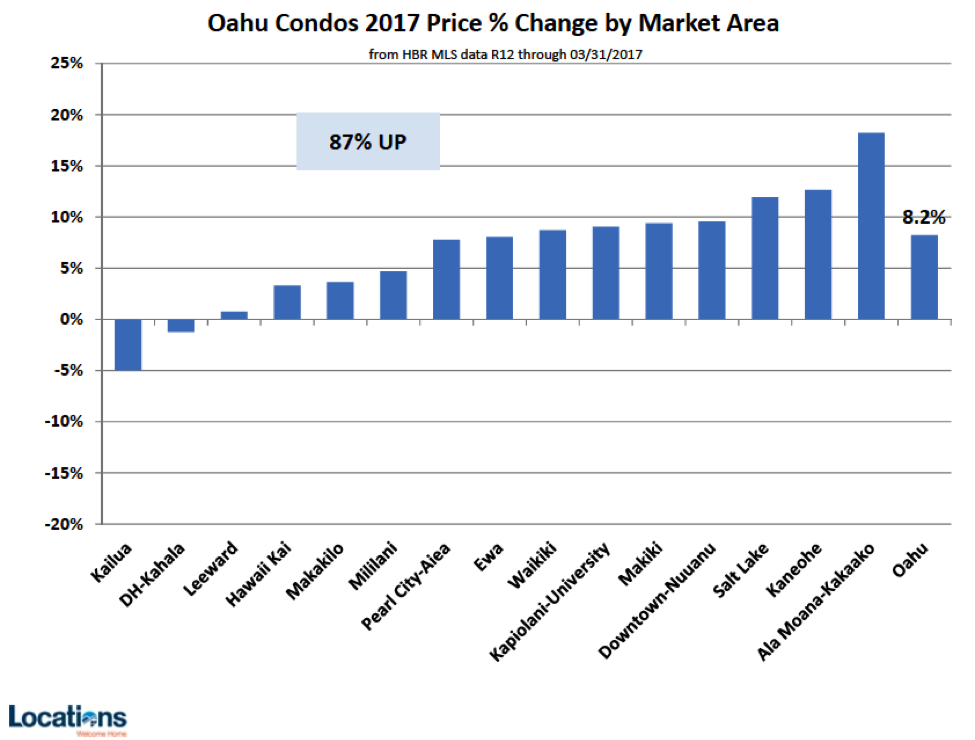 Competition has also been high for most neighborhoods on Oahu. When looking at the percentage of bid ups for condominiums we see that Mililani, Ewa and Kaneohe have experienced a large increase in pricing along with many other neighborhoods. Overall, 1 in every 4 condominiums (24.3%) are selling above the list price. There are sometimes other factors that might increase demand in a certain area other than an increase of local buyers. For example, in Mililani and Ewa there have been a higher number of investors from Japan who are purchasing townhomes which are 20+ years old and are wood structures, and who benefit from depreciation on their income tax. These investors have created a tighter market in those areas and have attributed to an increase in prices.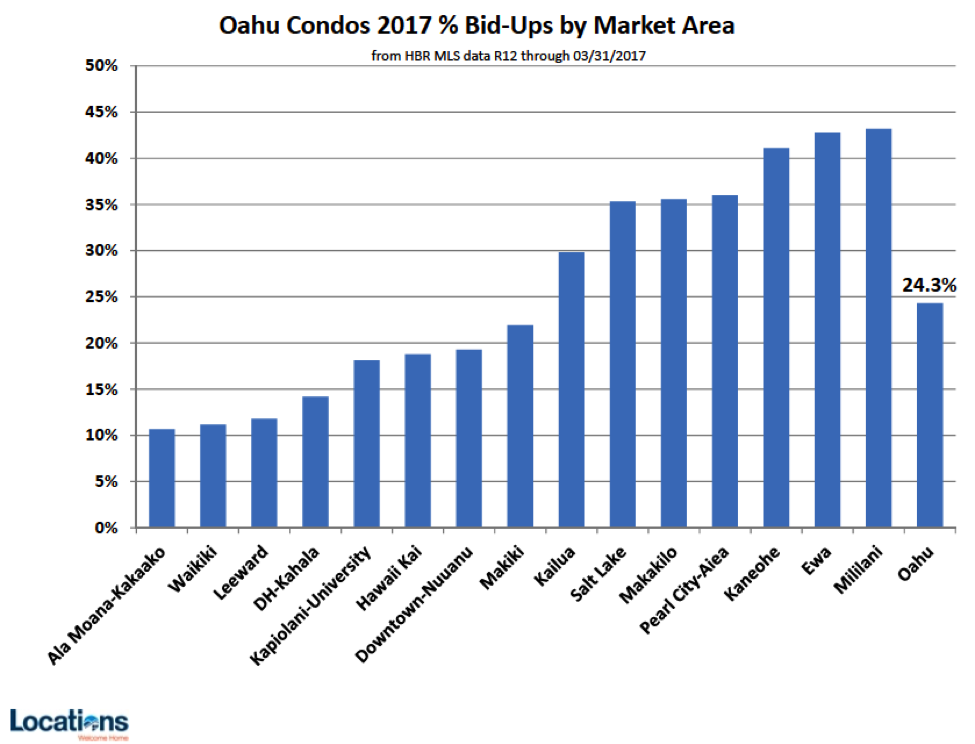 New Condominiums
The majority of new condominium development has occurred in Kakaako as a part of the HCDA (Hawaii Community Development Authority) plan to gentrify the older warehouse/retail district and create more housing in the urban core. We can see that prices vary considerably between those developments which are meant to be affordable known as reserved housing and those which are deemed luxury properties. There have been considerable gains in appreciation between the initial pricing and the resale prices which bode well for those who made the investment. Properties such as Hokua, which have a 74.6% gain and Waihonua, which have a 33.6% gain are standouts in the list.