This article is dedicated to our best friends and furry confidants.  Studies by Scientists at the Claremont Graduate University in California have shown that cuddling a pet, likely a cat or a dog, releases oxytocin (a love or close bonding chemical) in both the human and the pet. This natural "love" chemical has a calming and soothing effect that leads to the development of a strong bond between the owner and their pet.
Per the Hawaii Humane Society, nearly 60% of Oahu's households have pets. When searching for a new home, it's important to not only be able to identify properties that allow pets but also to work with professionals, like REALTORS®, rental agents and property managers who understand and appreciate how important your pet is to your family and to your housing decision.
Whether you are looking to purchase, rent or lease a new home for you, your family and your pet(s) take note that buildings, condominiums and developments that allow pets are not necessarily the same as "pet friendly" properties.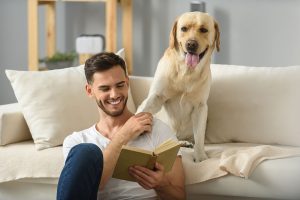 Properties that "allow" pets may still have strict restrictions as to the breed, size and/or number of pets that are permissible under the properties "house rules" or covenants, conditions and restrictions used to regulated the use, appearance and maintenance of properties with common and community areas.  For example, some properties might not allow Pit Bulls, or limit pets to 10 pounds or less, while others may restrict a condo or apartment unit to only one pet.
Properties that are "pet friendly", on the other hand, will allow any type of pet and have building rules and/or amenities and common areas built specifically for the benefit of resident pets.  For example, the newer developments, like the condominiums in Kaka'ako, tend to be very pet friendly in their approach to promote and develop the urban live/work concept.
With regard to your pet that is registered as a "service animal" under the Americans with Disabilities Act (ADA), you are allowed to live with your pet in any building or property and thus, the "No Pets" rule or restrictions do not apply.
Click here for list of Oahu condominium associations that do not prohibit pets.
For renters, a pet addendum to your written lease will go a long way to help protect you, your pet as well as the property and the landlord or owner.  The Hawaii Humane Society provides a sample Pet Addendum on their website.
Under Hawaii laws, a landlord may require the tenant to pay, as a condition of a rental agreement, pet security deposit an amount agreed upon by the landlord and tenant to compensate the landlord for any damages caused by any pet allowed to reside in the premises under the rental agreement, provided such additional security deposit is not in excess of one month's rent.  Notwithstanding, an additional pet security deposit is not permitted as a condition of a rental agreement in the case of a registered service animal.
In closing, here are Four Important Tips for pet owners looking for a new home:
1 | HONESTY
Be honest. Don't try to buy or rent a home in a complex, development or community that does not allow pets. Subjecting yourself and family to eviction or legal action is not worth the battle.
2 | OPENESS
Be open.  Finding the best home in the best location for you, your family and your pet(s) may take a bit longer, so be open and patient.
3 | MORE
Be willing to pay a little more.  Agree with your landlord to place a larger security deposit to cover possible damage your pet(s) might make to the property.  Also, you might have to pay a little more in order to obtain the best location for your pet(s), e.g. corner, end unit with small yard or lanai.
4 | EVIDENCE
Be able to present evidence.  Have documents readily available to demonstrate your excellent care and due diligence in raising, training and caring for your pet.  Examples of documents and good evidence supporting that you are a responsible pet owner may include: proof of spay/neuter, records of up-to-date vaccinations, indications of regular veterinary visits, obedience school diplomas as well as proof of a consistent flea management program.  You might also consider obtaining a letter from your existing or prior landlord and neighbors supporting you and your family as a responsible pet owner and also that your pet has demonstrated good demeanor and behavior.
For more helpful tips and information about the current laws that apply to pet ownership and housing on Oahu at the Hawaii Humane Society website:  http://www.hawaiianhumane.org/current-laws.