OAHU SINGLE-FAMILY HOME SALES STRENGTHEN IN SEPTEMBER
Sales of single-family homes increased by double digits in September from 2018 according to resale figures released today by the Honolulu Board of REALTORS®. The analysis conducted by the Board using data collected from its computerized Multiple Listing Service (MLS) system show the following statistics:
Single-Family Home Resales
| | Number of Sales | Median Sales Price |
| --- | --- | --- |
| September 2019 | 347 | $777,000 |
| September 2018 | 309 | $812,500 -4.4% |
Condominium Resales
| | Number of Sales | Median Sales Price |
| --- | --- | --- |
| September 2019 | 466 | $445,000 |
| September 2018  | 511 | $428,000 4.0% |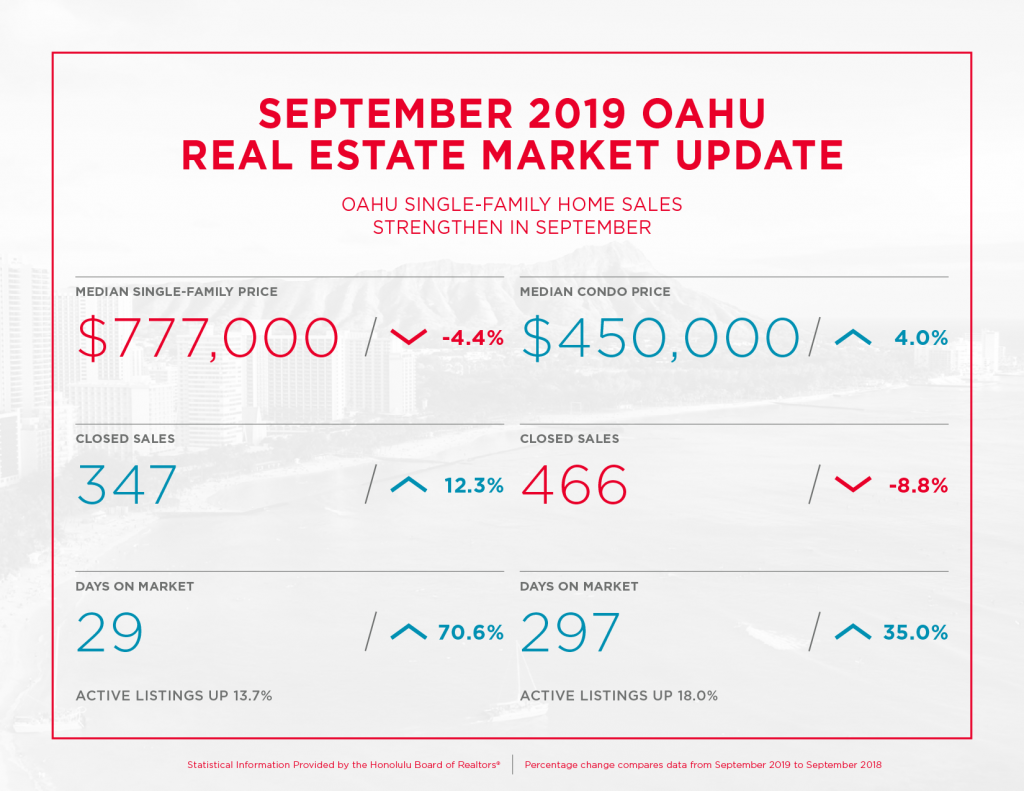 During September, single-family home sales increased by 12.3 percent with 347 closed sales and the median price was $777,000, a decline of 4.4 percent from last September's record high of $812,500. Third quarter single-family home sales increased by 8.7 percent over the same period in 2018, bringing the year-to-date sales to 2,774, up slightly by 0.8 percent. The year-to-date median price dipped by a half percent to $785,000. Active listings for single-family homes increased by 13.7 percent and new listings were up by 16.2 percent.
Condominium sales softened in September, declining by 8.8 percent, while the median price increased by 4.0 percent to $445,000. Year-to-date condominium sales decreased by 6.7 percent in September 2019, and the year-to-date median price dipped marginally by one percent to $425,000. New listings increased by 7.8 percent and active listings grew by 18 percent.
"Oahu's single-family home market performed strongly through the third quarter of 2019," said Jenny L. Brady, President of the Honolulu Board of REALTORS®. "Year-to-date sales are at levels comparable to 2018 and the Oahu median sales prices remains stable. In September, we saw a nearly 49 percent increase in sales of mid-priced singlefamily homes in the $500,000 to $699,999 price range, which contributed to the decline in the median and average sales price. In contrast, there was a 14.5 percent decrease in mid-priced condominiums in the $300,000 to $599,999 price range last month."
The information contained in this report is provided to the National Association of REALTORS® and the Hawaii State Department of Economic Development, Business and Tourism for its official reports. This report reflects information about resales of existing properties only and does not include new home sales. All of the MLS information is compiled from sales reported during the cited months; this data is known only after closing of escrow.
The public is encouraged to visit www.hicentral.com to see what's happening in the housing market. Consumers have the ability to browse Oahu single-family home and condominium listings, available for sale and for rent, and to see a comprehensive guide of homes that will be open to visit this Sunday. All searches can be done by geographic location and/or price range, and hicentral.com provides useful information about buying and selling real estate in Hawaii.