O'ahu's Single-Family Home Market Drives Activity Breaking Two Records
Single-family home sales improve year-over-year, while condo sales
slowly recover to pre-pandemic levels
According to resales figures released today by the Honolulu Board of REALTORS®, the summer season ended on a high note with closed sales of single-family homes surpassing year-over-year activity by 12.7%, while condo sales marked a steady month-over-month improvement of 11.5%. Dynamic activity in O'ahu's single-family home market drove the median sales price to a record of $880,000 and properties are spending a record-low of just nine days on the market.
Using data collected from its computerized Multiple Listing Service (MLS) system, the Board reported the following statistics: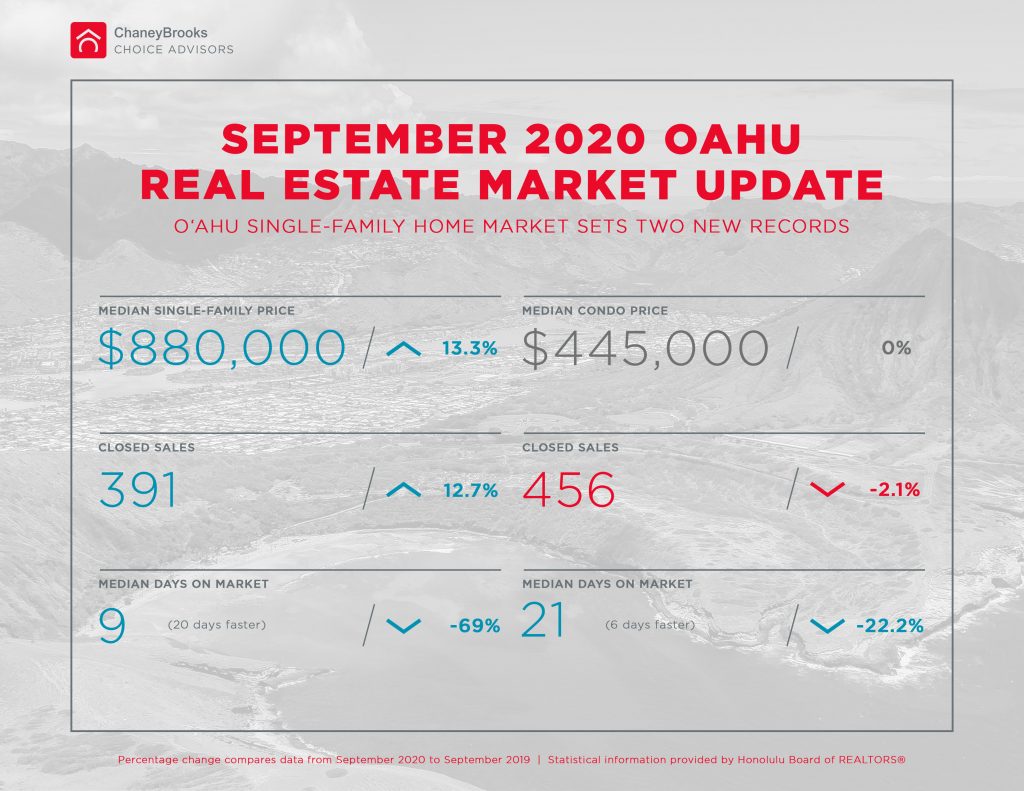 *Median price means half the prices were above and half below the given price.
**Condominiums also includes townhomes.
"The spike in demand for single-family homes may correlate to buyers' pursuing a different quality of life and a new environment following the sharp shift in people working from home," said Tricia Nekota, president, Honolulu Board of REALTORS®. "Ultimately, the COVID-19 pandemic has changed how buyers think about purchasing a home, causing them to reevaluate their housing goals and priorities."
Sales of single-family homes under $700,000 dropped 36.3%, while homes priced in the $700,000 to $1,499,999 range drove the most activity with 74 more sales or an increase of 39.4% compared to this time last year. Closed sales of homes in the $1.5 million and above range saw a 42.9% year-over-year increase. Notably, closed sales of larger homes with more than 2,000 square feet in interior space saw a 37.9% year-over-year increase. Meanwhile, there is a 26.1% surge in purchasing activity backed by VA loans compared to this time last year.
The condo market fell just shy of maintaining year-over-year activity by 2.1% or about 10 fewer sales. Properties listed in $400,000 to $499,999 and the $600,000 to $699,999 price ranges marked the most activity. The median price for condos held steady at $445,000, though condos sold faster than this time last year with properties spending a median of 21 days instead of 27 days on the market. Closed condos sales also saw a 34.7% uptick in purchasing activity backed by VA loans compared to last September.
The number of single-family home sales closing over the original asking price more than doubled compared to this time last year with 163 sales versus 79 sales. Condos also saw a boost in properties selling above the asking price, with 82 closed sales this year compared to 62 in 2019.
"Right now, sellers are benefitting from market conditions that include historically low-interest rates, a lack of inventory and stiff competition, often causing buyers to bid well over the asking price," added Nekota.
As the market shifts into the fall season, inventory of available single-family homes and condos are down 39.3% and 5.8%, respectively, compared to this time last year. The drop in singlefamily home inventory is due to fewer new listings entering the market, paired with high demand and strong sales in the third quarter. While the condo market is also suffering from a lack of new listings, the decline in listings has not been as sharp compared to single-family homes. Although condo demand has grown steadily from the second quarter, sales were down 13.4% in the third quarter compared to last year.
Despite the second Stay-at-Home order last month, new listings for single-family homes and condos fell just 18.4% and 9.7% respectively compared to this time last year. This is a much less severe decline than the staggering drops of 45.5% and 39.5% in inventory for singlefamily homes and condos following the first Stay-at-Home order in April.
In accordance with Tier 1 of Mayor Caldwell's Honolulu Recovery Framework, REALTORS® are hosting modified in-person open house showings, which are limited to no more than five people in a home at any given time. As an essential business, real estate remains open with modifications, and REALTORS® continue to serve the housing needs of their clients, buyers, sellers, and landlords while observing social distancing, wearing a mask and utilizing heightened sanitation practices.The information contained in this report is provided to the National Association of REALTORS® and the Hawaiʻi State Department of Economic Development, Business and Tourism for its official reports. This report reflects information about resales of existing properties only and does not include new home sales. All of the MLS information is compiled from sales reported during the cited months; this data is known only after closing of escrow.
The public is encouraged to visit www.hicentral.com to see what's happening in the housing market. Consumers have the ability to browse Oahu single-family home and condominium listings, available for sale and for rent, and to see a comprehensive guide of homes that will be open to visit this Sunday. All searches can be done by geographic location and/or price range, and hicentral.com provides useful information about buying and selling real estate in Hawaii.