A short-term rental is a property that is being rented for less than 30 days, which is the minimum rental period for Oahu residential property.  Many investors are interested in short-term rentals because it allows them the flexibility of staying in their residence for a time and then renting it out for the remainder of the year.  Visitors who use vacation rental hosting platforms such as Airbnb, Homeaway, or VRBO are looking for cheaper rates or a more local experience when vacationing on the island.
Oahu has some of the strictest laws pertaining to short-term rentals. Permits issued for transient vacation units and bed & breakfast units were stopped in 1989-1990. On this Honolulu City and County FAQ sheet on Transient Vacation Rentals and Bed & Breakfast Homes, there are answers to the most commonly asked questions that make it clear as far as what properties are permitted for short-term rental use. The Office of Hawaiian Affairs has also created a map which locates these permitted short-term rental properties in Honolulu County on Oahu.
Last year Bill 89 was passed unanimously (9-0) by the Honolulu City Council which allows permitting for an approximate 1,715 additional owner-occupied bed-and-breakfast rentals on Oahu.  This bill became Ordinance 19-18 which added to the 816 legal short-term rentals on Oahu, but was a mere fraction of the 8,000 short-term rentals which were presumed to exist in the county at a given time.  An additional measure, Bill 85, was also passed (7-2) imposing a fine of $1,000 for a first-time offense and a $10,000 for a repeat offender for illegal short-term rental operators.  Most of all legal short-term rentals exist within resort zoned areas such as Waikiki or Ko'Olina. The other transient vacation properties outside of resort zoned areas have non-confirming use certificates which owners will have to reapply for every two years. Here is an FAQ on Short-Term Rentals from the City & County of Honolulu.
Here is a list of the short term rentals currently available which have non-confirming use certificates as of September 2020.  Updates to this list can be found by clicking on this link to the City & County website.
Condominium hotels or condotels are a popular short-term rental option because it allows a property owner to live in the unit a portion of the year and then place their unit in the hotel pool to generate revenue.  Many of the popular condotels are found in Waikiki and are sold and purchased as any other property with the exception that there is usually a higher requirement of down payment for the purchase.  Here is a list of condominium hotels found on Oahu:
| | |
| --- | --- |
| Condotel | Property Address |
| Aloha Surf Hotel | 444 Kanekapolei St |
| Bamboo | 2425 Kuhio Ave |
| Hawaiian Monarch | 444 Niu |
| Ilikai Apartments | 1777 Ala Moana Blvd |
| Island Colony | 445 Seaside Ave |
| Luana Waikiki | 2045 Kalakaua Ave |
| Pacific Monarch | 2427 Kuhio Ave |
| Palms at Waikiki | 1850 Ala Moana Blvd |
| Regency on Beachwalk | 255 Beach Walk |
| Ritz-Carlton Waikiki | 383 Kalaimoku St |
| Royal Garden at Waikiki | 440 Olohana St |
| Trump Tower Waikiki | 223 Saratoga Rd |
| Waikiki Banyan* | 201 Ohua Ave |
| Waikiki Beach Tower | 2470 Kalakaua Ave |
| Waikiki Grand Hotel | 134 Kapahulu Ave |
| Waikiki Shore | 2161 Kalia Rd |
| Waikiki Sunset* | 229 Paoakalani Ave |
*Non-Conforming Use Certificate Required
If you are planning to purchase a short-term rental property, it is a good idea to make sure that it has a non-conforming use certificate or that it is in an approved building, so that you are not fined and given a notice of violation from the City.
The following is a snapshot of approximate complaints received and notices served, since August 2019, when Ordinance 19-18 went into effect.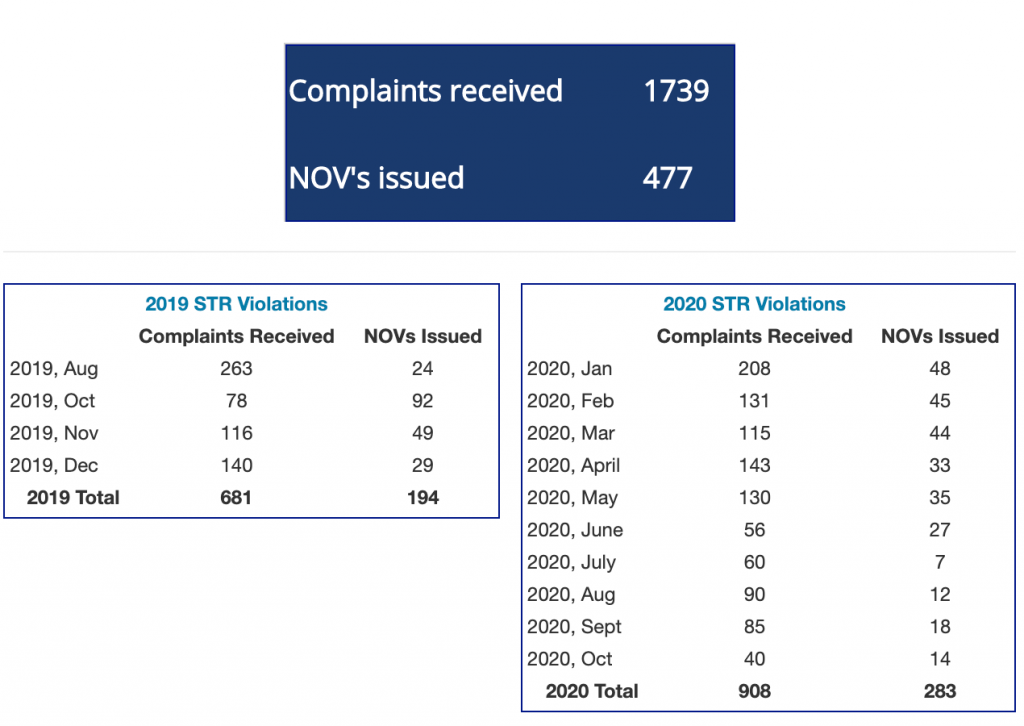 Though it requires more diligence on part of the owner, there is clearly a demand for short-term vacation properties. As a real estate investor, it would be wise to consider using a legal rental option, so that you can remain profitable and avoid unnecessary fines. Should you require more information on how to invest in Oahu real estate please contact us.